Welcome to the latest edition of our quarterly newsletter, where we bring you updates from the Supporting Investment and Trade in Africa (SITA) programme, an FCDO-funded initiative to support the negotiations and implementation of the African Continental Free Trade Area (AfCFTA).
This Summer we actively engaged stakeholders through high-impact events and gatherings. New publications offered insights on shaping policy and our experts provided media commentary on urgent issues shaping African trade policy, AfCFTA negotiations and implementation, and pathways towards sustainable economic development in Africa.
In this issue, we highlight our team's recent activities, share new insights and analysis, and preview upcoming initiatives. We had productive visits to Tanzania and Kenya, where we continued building on our partnerships. We also had the privilege of contributing to major forums such as the WTO Public Forum, the annual ODI-SOAS Conference and the World Bank–IMF Annual Meetings in Marrakech, where we showcased our expertise and championed meaningful discussions.
For real-time updates, follow us on X (formerly Twitter). We welcome your ongoing engagement as we work to support regional integration on the continent.
If you have any questions or comments, please do not hesitate to reach out to us.
Roundtables and events
Ethiopia, one of Africa's fastest-growing economies, holds a pivotal role in the continent's development. In July, our Senior Research Officer, Yohannes Ayele, attended a breakfast roundtable at the Ethiopian Embassy in London, focused on Ethiopia's Economic and Political Reforms. The event brought together influential speakers from the Ethiopian government, development partners, and businesses who have successfully ventured into the country.
The central theme of the discussions revolved around Ethiopia's commitment to establishing an investment-friendly environment. Participants shared their experiences and perspectives on the vast potential Ethiopia offers, while also acknowledging the challenges faced by investors, such as bureaucratic hurdles and foreign currency shortages. Yohannes highlighted SITA's work in Ethiopia, including a policy paper by ODI and the University of Addis Ababa on the potential impact of the AfCFTA investment protocol. This protocol, adopted at the African Union Heads of State meeting in February 2023, aims to foster a conducive investment climate among AfCFTA State Parties.
Strengthening partnerships with Ethiopia
In September, we welcomed H.E. Ambassador Teferi Melesse Desta, along with his deputy, Beyene Gebremeskel, and Political Affairs Officer, Samrawit Gebremeskel, for a visit to ODI. This visit laid the foundation for a deepened partnership between ODI and Ethiopia aimed at supporting sustainable and inclusive economic growth.
During the visit, we discussed various issues including AfCFTA implementation and leveraging trade and investment opportunities in Ethiopia. These efforts align with the highly anticipated UK-Africa Investment Summit scheduled to take place in April 2024.
SITA engagements in Africa
In September, the SITA Director, Dirk Willem te Velde, visited Tanzania and Kenya, furthering our commitment to Africa's prosperity.
In Dar Es Salaam, Dirk held fruitful discussions with Prof Kitila Mkumbo, Minister of the newly-established Ministry of Planning and Investment, and Lawrence Mafuru, the Executive Secretary of the National Planning Commission. Their deliberations focused on a range of issues, including the importance of AfCFTA implementation for investment promotion.
Next, in Kenya, coinciding with Africa Climate Week, Dirk engaged in a productive meeting with former Kenyan Cabinet Minister, Ambassador Amina Mohammed.
The meeting focused on collaborations in trade negotiations and implementation and built upon Ambassador Amina's previous engagement with ODI in June, where she delivered a keynote address at a roundtable highlighting Kenya's trade and investment opportunities and their commitment to increasing intra-Africa trade cooperation through regional blocs such as the EAC, COMESA, and AfCFTA.
In October, SITA Technical Lead and Principal Research Fellow, Max Mendez-Parra, met the National Coordination Office on the AfCFTA in Ghana and the National Action Committee (NAC) on the AfCFTA in Nigeria where he discussed SITA's performance, the impact of the current support activities and potential areas for future cooperation to boost trade under the agreement.
While in Nigeria, he also visited the National Automotive Design and Development Council to discuss SITA's recent report on Nigeria's automobile sector potential and the possibility of hosting an event spotlighting opportunities in the sector.
Advancing AfCFTA implementation through private sector engagement
Private sector collaboration is key to realising the full potential of the AfCFTA. This summer, SITA Director, Dirk Willem, made contributions to a series of online roundtables organised by the World Economic Forum-Africa and Brookings Institute on the agriculture / agro-processing, pharmaceuticals, ICT, and logistics sectors – sectors identified by the AfCFTA as important areas of business due to their potential for meeting local demand with local production. These dynamic discussions served as platforms to showcase our SITA programme and the indispensable role of the private sector in driving forward the implementation plans of the AfCFTA across key sectors.
Building on the momentum of previous meetings in Davos and Cape Town earlier this year, the WEF Friends of the AfCFTA convened virtually in June bringing together top global and African representatives from sectors such as pharmaceuticals, transportation, infrastructure, logistics, agriculture and agro-processing. The meeting was held under the leadership of WEF Africa Head Chido Munyati, and his team, and in collaboration with AfCFTA Senior Adviser Cynthia E. Gnassingbe-Essonam, and SITA Director Dirk Willem.
Dirk highlighted how countries can support AfCFTA implementation by aligning short- and long-term investment plans with AfCFTA objectives, and by engaging with public sector discussions at both the national and continental levels.
Trade's role in climate action in the spotlight
September also saw the return of the WTO's annual Public Forum, where ODI hosted two side events with a focus on promoting green trade and sustainable industrialisation in Africa. The theme of this year's Public Forum, It is Time for Action, explored the role of trade in combating climate change.
SITA Director, Dirk Willem te Velde, participated in a session on partnerships for sustainable industrialisation in Africa organised in collaboration with the Enhanced Integrated Framework (EIF). Chaired by Ambassador Dieudonne W. Desi, this session featured perspectives on implementing the AfCFTA and advancing green growth, with contributions from Ngone Diop (UNECA), Richard Niwenshuti (Ministry of Trade, Rwanda), and Annette Ssemuwemba (EAC). ( audio available here).
Additionally, in a dedicated session on the textiles and clothing global value chain, SITA Technical Lead and Principal Research Fellow Max Mendez-Parra, along with Senior Research Fellow Jodie Keane, shared insights on the implications of new green trade measures, with case studies from Kenya, Bangladesh and Vietnam. They were joined by industry leaders, Dr Fahmida Khatun (Centre for Policy Dialogue), David Beer (TradeMark Africa) and George Riddell (E&Y). David Beer, the Chief Executive from TMA, with whom we are currently joint implementation partners under SITA, provided reflections on how Africa is adapting to new environmental pressures impacting the textiles and clothing value chain, especially in relation to global and European markets. He also provided a summary of measures that can be taken to ensure more inclusive approaches towards environmental upgrading in the textiles and clothing sector. ( audio available here)
Sticking with the textiles and clothing theme, in September, the Research Network Sustainable Global Supply Chains held its annual conference at the Kiel Institute. The theme this year focused on Advancing the Sustainability of Critical Supply Chains in Developing Countries. Senior Research Officer Prachi Agarwal presented a paper co-authored with the Mandela School of Public Governance on the AfCFTA and Rules of Origin for the Textile and Apparel Industry in Africa.
The conference provided an important platform for researchers from economics, development studies, and international business studies worldwide to exchange ideas and receive valuable feedback. Discussions around Prachi's paper centred on the impact of crises on the clothing and textiles industry, emphasising the urgent need for effective industrial policies to fully leverage the benefits of the AfCFTA.
AfCFTA's role in building resilience in African countries
In September, ODI co-hosted its annual conference with SOAS, the University of London, gathering eminent experts to examine shifting global economic and financial trends. Amidst global uncertainty, the discussions centred on building resilience, restoring stability, and charting innovative solutions to navigating global shocks.
A highlight of the conference was an insightful panel session on AfCFTA: Like Never Before. Chaired by Jonathan Rosenthal, The Economist's Africa Editor, the panel featured distinguished thought leaders, including SITA Director, Dirk Willem te Velde, and Philanthropist and ODI Board Member, Dominic McVey.
They were joined by a stellar lineup, including Opeyemi Abebe (The Commonwealth Secretariat), Prof. Alemayehu Geda (University of Addis Ababa), Agnes Gitau (Eastern Africa Association), and Teferi Melesse Desta (Ethiopian Embassy). Together, they explored the immense opportunities and challenges of African integration, the role of AfCFTA in building resilience, and how the UK can support these integration efforts. There was much discussion on AfCFTA implementation issues including around joint AfCFTA-ODI work on national implementation committees. Professor Alemayehu highlighted SITA's work on AfCFTA implementation and investment. For those interested, a recording of this session is available on our website.
Discussions on AfCFTA implementation and its role in economic diversification continued in a session at the ODI-SOAS conference, with the launch of Prof David Luke's book, How Africa Trades.
The book aims to demystify Africa's trade and trade policy for a wide audience using non-technical language and calls for a new pro-development trade policy towards Africa that incentivises diversified trade networks and allows the continent to use trade as a powerful development tool. The open-access publication makes this important book widely available, including in Africa.
Resilience-building discussed at the Annual Meetings in Marrakech
This October saw the return of the World Bank – IMF Annual Meetings to Africa after an absence of 50 years. Held in Marrakech amid the country's recovery from a devastating earthquake, the theme of resilience in the face of uncertainty took centre stage at two events that ODI participated in.
The first, 'Resilience to shocks and pathways to recovery: perspectives from the Global South', organised by the Economic Research Forum (ERF) and IDRC, addressed the compounding crises stemming from the Russian invasion of Ukraine and the COVID-19 pandemic. SITA Director, Dirk Willem, took part in a session on Africa's Food Security, Regional Cooperation, and Resilience in the Shadow of the War on Ukraine.
The second event, 'Resilience-building in Africa: navigating shocks and policy implications', chaired by SITA Director, Dirk Willem, and hosted at 'ODI House' in Marrakech, focused on Africa's journey towards greater resilience through the implementation of policy reforms.
Opened by ODI Chief Executive, Sara Pantuliano, presentations included remarks from Catherine Anne Maria Pattillo, Deputy Director of the African Department at the IMF and Andrew Dabalen, Africa Region Chief Economist at the World Bank, with contributions from Dianah Ngui Muchai (African Economic Research Consortium), Dr. Ibrahim Elbadawi (Economic Research Forum), Phyllis Papadavid (ODI) and Prof. Victor Murinde (SOAS, University of London). A session focused on the impact of the Russia– Ukraine war on African economies and women, saw the launch of two reports drawing on research funded by IDRC.
These discussions made valuable contributions to Africa's sustainable development agenda, notably emphasising the role of the AfCFTA in building resilience through increased intra-African trade and regional integration. The convergence between Global South think tanks and multilateral stakeholders underscored the AfCFTA's critical significance for economic growth and safeguarding the continent against external shocks. You can watch the ODI event and access the reports here. 
Looking forward
Looking ahead, ODI is excited to contribute to flagship forums and conferences in the coming months.
In December, COP28 will shine a spotlight on trade as a specific theme and feature the first-ever "Trade Day." This dedicated day will underscore the pivotal role of trade in addressing climate change and an enabler of climate-smart growth. Various topics such as supply chain decarbonisation, greening, and resilience will be addressed.
Building on our series of blogs that explore the intersection of trade and climate change during the Africa Climate Summit and Climate Week, ODI will organise additional events leading up to and during COP28 to complement this theme. Further information will be shared in due course.
Insights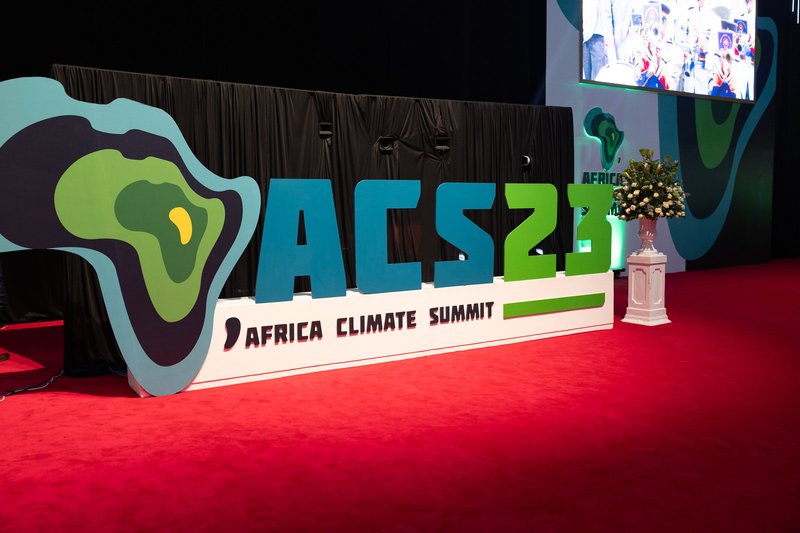 As Africa embarks on its industrialisation drive, supported by the African Continental Free Trade Area (AfCFTA), the realities of climate change are becoming more visible and acutely felt across the world. The continent faces an industrialisation journey unlike any other – it must lift millions out of poverty whilst adapting to climate change. The pathways to industrialisation will also be influenced by the transmitted effects of policies enacted elsewhere to mitigate climate change. Read more...
Videos
We have several informational videos on our YouTube page that provide valuable insights into the key priorities for the SITA program, the formation of AfCFTA National Implementation Committees, and the crucial role they play in advancing trade and investment in Africa.