Hero image description: The night lights of Europe (as seen from space)
Image credit:
NASA/GSFC
Image license:
CC BY 2.0
ODI Europe leads thinking and policy influence to inspire Europe to continue acting on injustice and inequality.
Through independent, collaborative research and ideas that matter for people and the planet, ODI's European office steers European policy design and ensures an informed debate about Europe's role in the global arena.

Find out more about our European office.
Shaping European finance
This year will be key in shaping the new international financial architecture with Europe and its member states as shareholders playing a key role. We are influencing and amplifying Europe's position on reforming the international financial architecture and shaping the implementation of the Global Gateway.
Enabling the climate transition
The climate transition is an urgent global priority and Europe has a central role to play. To achieve equitable, risk-informed and environmentally sustainable development, competing visions of a green future must be addressed.
If global warming is to be halted at 1.5°C, rapid and expansive transformations are necessary in all sectors of the global economy. In spite of current tensions in the international climate architecture, Europe will need to continue its leadership in enabling just transitions for all, and in mobilising the required finance.
Strengthening the European neighbourhood
Globally, Europe is a key player in promoting human-rights and an international rules based order; fundamental to building peaceful, just, and inclusive societies.
We are supporting the European accession of Ukraine, Moldova and the Western Balkans and exploring wider geopolitical implications. ODI will propose policies and actions to advance economic development, human rights and social justice.
The Africa-Europe Mayors' Dialogue
We continue our flagship programme: the Africa-Europe Mayors' Dialogue. The Dialogue provides a platform for African and European mayors to work together to deliver innovative and practical solutions for inclusive growth and sustainable urban development in and between their cities.
The Africa-Europe Mayors' Dialogue
The Dialogue is a partnership of equals between African and European mayors, focusing on creating opportunities for all urban residents. It aspires to a new and different model of cooperation between the two continents, based on mutual respect and trust, helping to redress the power imbalances that persist between Africa and Europe.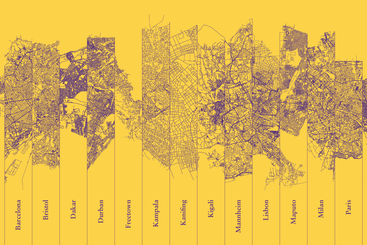 Changing the narrative around migrants and refugees
ODI Europe is working to change the narrative on migration, refugees and influencing the EU's agenda on containment, externalisation and securitisation of migration and forced displacement.
ODI Europe has a well-developed research portfolio that explores public narratives and attitudes towards refugees and other migrants across Europe and Africa. This initiative seeks to resist hostile rhetoric around immigration and to promote more inclusive and pragmatic immigration policies by providing evidence-based-research for political leaders and the policy community.
Public and political narratives and attitudes towards refugees and other migrants: implications for action
This project is mapping recent research and evidence on public attitudes toward refugees and other migrants in countries across Europe and Africa.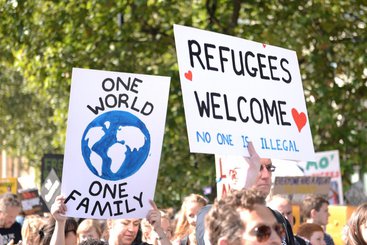 Creating a vision for just and equitable partnership and development policy
The deficiency of multilateralism has been highlighted by the confluence of current crises and the growth of great power competition. Meanwhile, in recent years we have seen the growing importance of multilateral alliances to overcome systemic threats that are increasingly global in nature.
For Europe, as with other continents, it is broadly recognised that existing cooperation across development objectives is insufficient to overcome current challenges. There is a strong need for more equal partnerships and reform of global cooperation structures. As part of this ambition, ODI Europe will be conducting a robust inquiry into the current status of European partnerships, including the views of partner countries.
One year since Russia invaded Ukraine: implications for the Africa-Europe relationship
Africa has felt the sharp consequences of Russia's invasion of Ukraine, which has had big ramifications for the Africa-Europe relationship.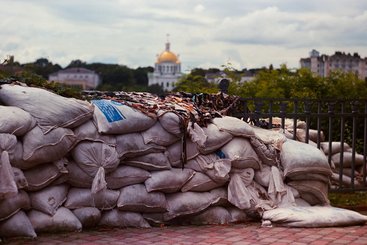 The MFF Global Insights Taskforce
The current state of the world – from the war in Ukraine, to the climate crisis, to the cost of living crisis – is creating new levels of uncertainty, instability and challenge.
Against this backdrop, the European Union is facing a critical decade. Debates around expenditure ceilings agreed under the multiannual financial framework (MFF) require careful consideration, in addition to the context of global trends and investment of other global actors.
Preparations for the following MFF will soon be underway. To inform these debates, ODI Europe will undertake detailed analysis of key policy challenges globally.
European reconstructions, geopolitics and risk
We will continue our work on Turkey and Ukraine, with a particular focus on facilitating risk-informed reconstruction processes. ODI is supporting preparations for the Ukraine Recovery Conference 2023 by providing detailed geoeconomic analytics. Following the recent earthquakes, we are exploring Turkey's future and how it may shape its foreign policy.
Supporting digital diplomacy and inclusive digital societies
The power to gather, process and disseminate information through digital technology and systems can be a huge force for good. But it can also be misused, and its benefits are neither automatic nor evenly spread.
It is essential that Europe fully engages in the digital transition and strengthens the impact of its external action policies. ODI is working with European actors to better align internal and external policies and to develop coherent digital approaches to external action.
About our European office
ODI's European office extends and deepens ODI's engagement with European-based policy-makers on topics which go beyond the current development aid paradigm. Our focus is on economic, climate, foreign, security, social, domestic, and other policies that affect marginalised and vulnerable populations.
Europe is a key vehicle for impacting global policy, through advancing change across the continent, as well as through its external programmes and engagement in multilateral fora. ODI Europe was established in Brussels in 2021 as an international not-for-profit association (INPA). By growing ODI's engagement across Europe, we aim to increase visibility, influence, and impact on the global policy process in key areas, building just and equitable partnerships and driving impact.
Contact us
ODI Europe
Rond-Point Schuman 6
1040 Etterbeek, Brussels, Belgium
Email: [email protected]
EU Transparency register: 131581848799-77