CGF-ODI Conference 2023 | Session IV – AfCFTA: Like Never Before
Time (GMT +01)
10:00 16:30
Session IV – AfCFTA: Like Never Before (Chair: Jonathan Rosenthal, Africa Editor, The Economist)
Amidst the global turbulence of major economic shocks relating to conflict, pandemics and climate change, African integration (especially the African Continental Free Trade Area) has emerged as a promising African response. Key questions this session will address include:
What are the current opportunities for African integration?
What has been the scope of African integration so far, what are prospects for deep and effective integration, is AfCFTA really different from past integration?
How can AfCFTA help to ensure African countries to become more resilient to crises?
How could the UK support these efforts?
This policy panel will discuss this from different aspects, with invited speakers from the academia, business, think tank, government and media:
Prof. Dirk Willem te Velde (ODI and SOAS University of London)
Teferi Melesse Desta (Ethiopian Ambassador to the UK)
Prof. Alemeyahu Geda (University of Addis Ababa)
Opeyemi Abebe (Head of Section, Commonwealth Secretariat)
Agnes Gitau (CEO, East African Association)
Prof. Dominic McVey (ODI Trustee and Philanthropist), TBC
CGF-ODI Conference 2023 | Shifting Global Economic & Financial Trends: What do we really know?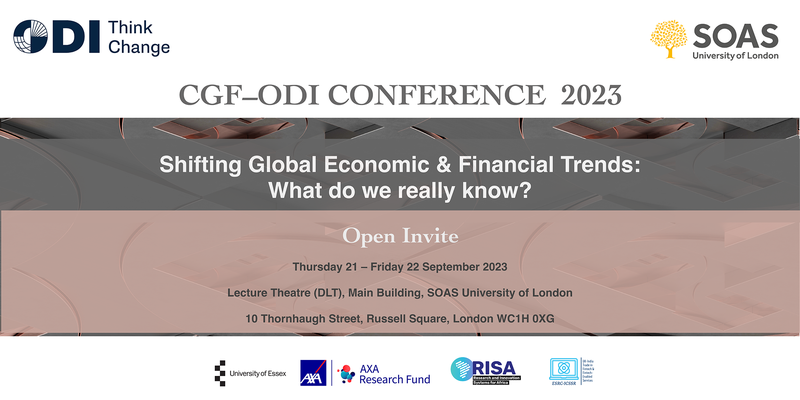 Description
Trend shifts are seemingly inevitable. However, the recent multiple shocks to the world economy and the global financial system are so unprecedented that trend shift analysis is challenging. There is a high degree of uncertainty about the consequences of global shocks, such as the COVID-19 pandemic, climate-induced shocks, and the Russia - Ukraine conflict, on the flow of funds at national, regional, and global levels. 
This conference brings together world-leading scholars, policymakers and practitioners to share their insights on what we really know about the shifting global economic and financial trends and how to build resilience to withstand future shocks. Based on ongoing research, preliminary findings will be debated and contested.  
The sessions will also provide an opportunity to highlight new methodological advances in economics and finance and to explore possible solutions and pathways to restoring global financial stability and economic sustainability.  
The two-day forum should also enable researchers to engage with policymakers, private sector practitioners, and non-governmental organisations (NGOs) to chart the way for further research, identify emerging issues and continue the momentum for generating new findings as well as dissemination of knowledge and experiences in relation to the global financial system and the world economy. 
*Please note that this is a two-day conference running from 21 September (10:00) - 22 September 2023 (16:30)
Contact
For further information, please contact:
Angela Kolongo
Senior Communications Officer
International Economic Development Group (IEDG)
[email protected]
Follow us on Twitter for the latest updates: @ODI_Trade