ODI is pleased to announce its participation in the upcoming World Trade Organization (WTO) Public Forum in Geneva, Switzerland, from 12-15 September. As a leading global affairs think tank, ODI has been an active participant in the WTO Public Forum for several years and we are thrilled to be returning this year by hosting two side events focusing on promoting green trade and sustainable industrialisation in Africa.
This year's theme, "It is Time for Action," explores how trade can help tackle the effects of climate change, creating a greener, more sustainable, and more resilient future. The Forum will examine how the services sector, digitalisation, and inclusive trade policies can support global environmental goals and combat the climate crisis.
Two side events will contribute to this important discussion, and we look forward to sharing our insights and expertise with the global community. As the world faces unprecedented challenges, it is more important than ever to come together to explore innovative solutions and take meaningful action towards a sustainable future.
ODI's presence at the Forum includes the International Economic Development Group (IEDG) Director, Professor Dirk Willem te Velde, who will chair the session on Partnerships for sustainable industrialisation in Africa.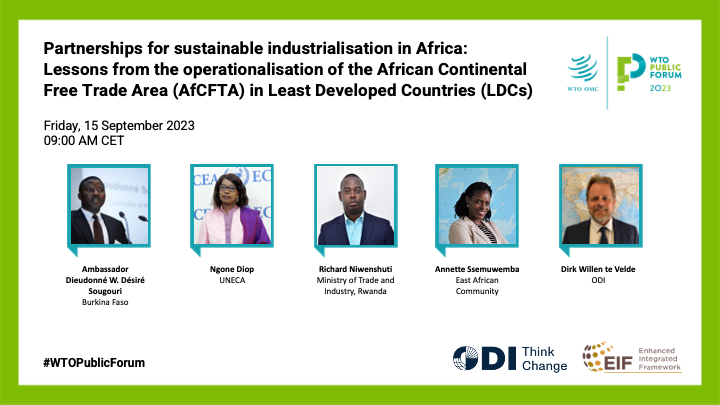 This session, organised in collaboration with the Enhanced Integrated Framework (EIF) at WTO, will feature partner perspectives on the implementation of the African Continental Free Trade Area (AfCFTA), particularly efforts towards the use of the AfCFTA as an instrument for advancing green growth within the free trade area. Professor Te Velde will be joined by Million Habte, a Coordinator at the AfCFTA Secretariat. Together, they will share the findings of their collaborative work on AfCFTA National Implementation Committees through the Supporting Investment and Trade in Africa (SITA) Programme - an initiative funded by the FCDO to support the negotiations and implementation of AfCFTA.
ODI's Principal Research Fellow, Dr Max Mendez-Parra, and Senior Research Fellow, Dr Jodie Keane, will share their insights on the implications of new green trade measures on the textiles and clothing sector during the Green trade measures and their development implications – a focus on the textiles and clothing global value chain session on 14 September.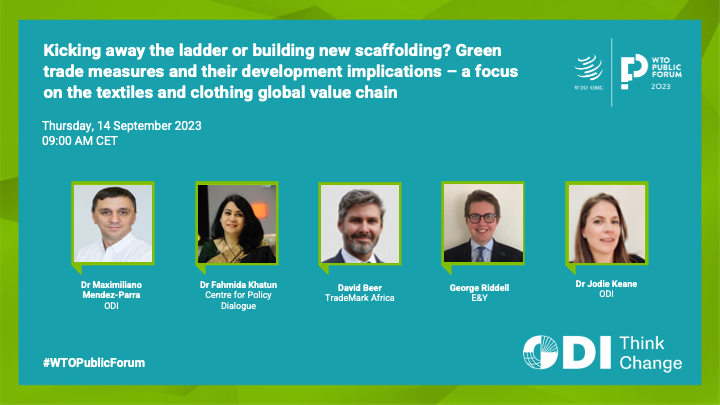 This panel discussion will explore the impact of new green trade measures on the textiles and clothing sector, which has traditionally enabled poor countries to gain a foothold into industrialisation and global value chains.
The WTO Public Forum is the organisation's largest annual outreach event in Geneva, bringing together policymakers, representatives from government, civil society, academia, business, and inter-governmental organisations to discuss the latest developments and challenges in global trade.
Event recordings for ODI sessions will be made available at a later date. We look forward to engaging with the global community and contributing to the ongoing dialogue on trade and sustainable development.