This month, the United Nations launched its
humanitarian appeal
for 2015, just like it always does around this time of the year. Except this time, it is the biggest appeal in the history of the organisation, calling for $16.4 billion to assist 57.5 million people in 22 countries over the coming 12 months.
Humanitarian appeals are growing at a historic rate and, if the last three or four years' trend continues, could top US$30 billion by the end of the decade. But what else are the numbers telling us about the state of the world as a new year begins, and what do they suggest about the state of the humanitarian system?

Here are the five key observations to keep in mind.

1. Aid is concentrated in a small number of conflict zones which require fundamentally political – not humanitarian – solutions.

The lion's share of funds in the 2015 appeal (around 70%) will go to four major crises – Syria, South Sudan, Iraq, and the Central African Republic. The root causes of these crises need long-term political engagement to restore peace and stability. While aid is urgently required, it will only serve as a temporary palliative for affected people. 
Humanitarian needs will continue to increase unless more is done to tackle the underlying social and political drivers of violence in these locations. This political engagement is already underway in a number of cases but is under-developed in places like Iraq and Syria.
2. Today's crises are becoming more and more unpredictable.
This can be seen in the growing gap between the consolidated appeal at the beginning of a year (such as the 2015 one just launched) and the revised requirements, or all UN-coordinated appeals, at the end of each year.

In 2005, the consolidated appeal matched the revised requirements spot on. But in 2014, new and worsening crises meant that an additional $5 billion in additional humanitarian funding was called for throughout the year.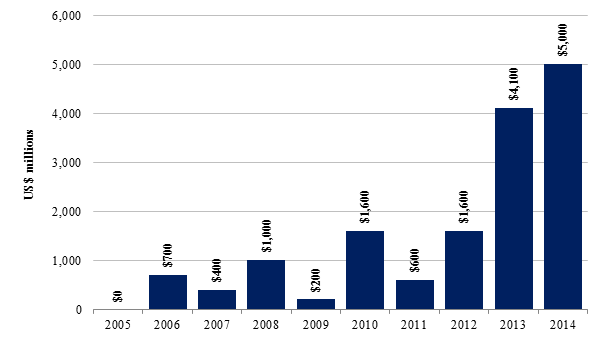 Unanticipated humanitarian requirements (those outside of the initial appeal)
That is, 40% of the humanitarian needs this year – from increasingly severe natural disasters to IS in Iraq and yet another conflict in Gaza – weren't foreseen at the start of the year. Given such trends, it comes as no surprise that humanitarian appeals are increasing year by year.

3. Governments are providing more and more humanitarian assistance, but gone are the days when they would provide as much as 70% of whatever the UN requested. 
Especially in the last three years, governments have consistently stepped up their funding of all UN-coordinated humanitarian appeals. But the need for aid has increased much faster, so that the governments' contributions no longer account for roughly 70% of whatever the UN asked for during the course of a year. 
In 2014, the total of all UN appeals were only around 52% funded. Humanitarian requirements have outpaced donor funding to such a degree that today's 'new normal' seems to be closer to 50-60%.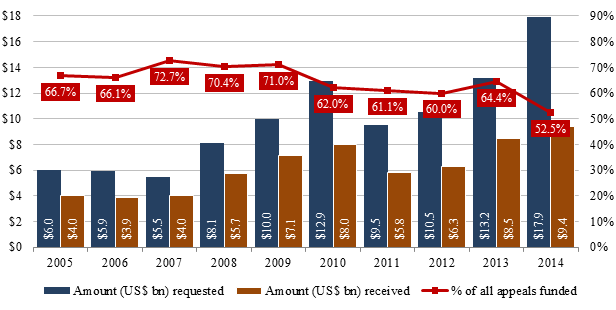 All UN-coordinated appeals and the percentage funded


4. The humanitarian community is now asking for far more aid per person/beneficiary than ever before.

If we took the $16.4 billion in humanitarian support the UN is requesting for 2015, and distributed it across all 57.5 million intended beneficiaries, it comes to $288 per person – or twice the per capita amount requested in 2011.

The underlying reasons are not entirely clear, though two important factors seem to be the challenges of 'staying and delivering' in highly insecure locations (such as Syria, South Sudan, or Iraq) – and the costs involved in responding to emergencies in more costly middle-income countries such as Jordan, Lebanon and Turkey.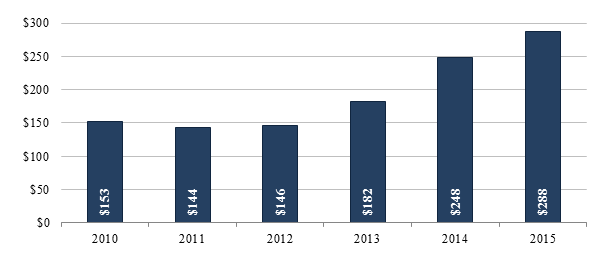 Average allocation of dollar per beneficiary as planned in the annual appeals
5. Inequities in the allocation of humanitarian assistance are stark and require greater justification to ensure that aid is being provided on the basis of need. 
The average allocated fund may be $288 per person, but in reality, it differs dramatically on a country-to-country basis. 
The 2015 appeal, for example, plans to spend an average of $525 per person in or from South Sudan and nearly $400 for those affected by the crisis in Syria (including Syrian refugees), compared to US$77 per person in Yemen. Again, factors such as different levels of operation costs feed into these numbers. But there is clearly a need to monitor and transparently justify such distributions to ensure that needs – not donor priorities or other factors – drive humanitarian allocations.
The challenges ahead
Several challenges lie ahead to prepare for the emergencies of 2015. First of all, there is a need to expand the donor base to maintain and increase the level of funding. Countries such as China or Turkey have been increasing their humanitarian funding, which will hopefully continue into the new year.

Secondly, existing donors will need to provide funding for longer periods and for more flexible use, which could bring fewer urgent appeals and more of an effort to plan ahead of time.

Finally, aid agencies will have to make more effective use of funds by working to their comparative advantage and, importantly, by designing aid programmes appropriate to the context. 
If recent trends are any indication, 2015 is likely to be another difficult year with existing challenges, such as the crisis in Syria and the region, straining the humanitarian system even as unanticipated crises loom. Keeping the above points in mind may help to cushion the blow.