GLOW: Gender Equality in a Low-Carbon World
Image credit:
Nabin Baral / IWMI
Image license:
(CC BY-NC 2.0)
There is an important gender dimension to the net zero transition. Today, more women than men are in informal, insecure paid work. Women, particularly in developing, rural, economies, bear a greater burden of unpaid work in the care economy, worldwide, and disproportionately shoulder the effects of shocks. However, much work on the net zero transition is often disjointed and gender blind, and fails to address the specific needs of low-income women, or to present operational means to advance them into environmentally sustainable, decent, secure work.
In response to this pressing knowledge gap, Canada's International Development Research Centre (IDRC) initiated the Gender Equality in a Low-Carbon World (GLOW) research programme. GLOW supports 12 projects in 17 low- and middle-income countries to investigate how women's economic empowerment can be integrated into low-carbon, climate-resilient transitions.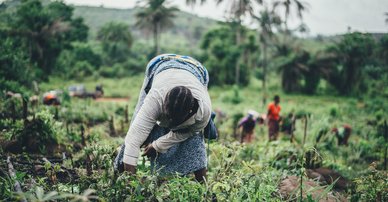 From low-carbon consumers to climate leaders
This report, produced for the Gender Equality in a Low-Carbon World (GLOW) programme, reviews the evidence on women's economic empowerment in low-carbon transitions.
Read more
Women's economic empowerment: the missing piece in low-carbon plans and actions
Published before COP27, research for GLOW scratches below the surface of pronouncements about 'inclusive green economies' to see how the most disadvantaged groups in society are included in literature, policy and practice of low-carbon development.