Child poverty remains staggeringly high. One in five children live on less than $1.90 a day and children are more than twice as likely to be living in extreme income poverty compared with adults. Despite clear evidence of the effectiveness of well-designed social protection in tackling child poverty, children are one of the population groups at highest risk of exclusion from social protection.
This report and briefing note, prepared in partnership with UNICEF, examine the role of universal child benefits (UCBs) in addressing this policy gap. They contribute to a growing debate on the role of UCBs in the pursuit of child poverty reduction and universal social protection.
Drawing on theory and practice from around the world, the report:
provides a picture of policy in practice, with a focus on cash transfers for children of a universal and unconditional nature;
critically reviews the arguments and the evidence on child benefit design and implementation options and related trade-offs;
provides a practical framework for assessing policy options.
The report and briefing note aim to support policy-makers as they consider the options for introducing a child benefit, expanding an existing child benefit or establishing a UCB, taking into account:
child rights;
poverty and inequality reduction effectiveness;
the dignity of children and their carers;
political economy;
cost and financing.
Authors: Francesca Bastagli, Emma Samman, Nathalie Both, Martin Evans, Magdalena Sepúlveda, Lichao Yang, Robert Walker, Heiner Salomon and Ian Orton
Briefing note | Universal child benefits: policy issues and options

Download file
Report | Universal child benefits: policy issues and options

Download file
This live digital event discusses key issues and emerging lessons concerning the challenges and trade-offs policymakers face when introducing or expanding a child benefit.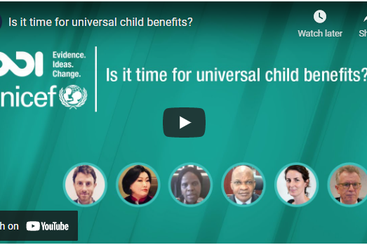 Universal Child Benefits
This collaborative project with UNICEF explores cash transfers, social protection and the objectives of reducing child poverty and improving wider outcomes for children.