The Mediterranean is a region of contradictions. Yesterday's explosion at the port in Beirut was a harsh reminder of how dysfunctional politics, corruption and a lack of accountability can wreak so much destruction. Countries that have come to Lebanon's rescue include France, the US, the UK, Qatar, Iran, and Israel with whom Lebanon is technically at war. I wonder if this immediate show of solidarity could last and translate into meaningful development and humanitarian assistance to the Lebanese people, beyond political fault lines. "Help us as a people, not a state" was the cry of a Lebanese resident on Twitter last night.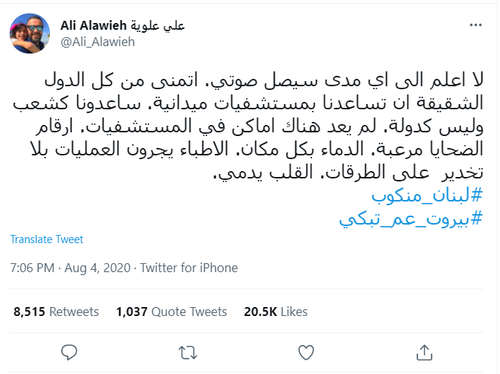 In Yemen, an abandoned oil storage tanker – the FSO Safer – off the port of Hodeida also has the potential to explode and cause one of the world's worst environmental disasters amidst international and regional inaction.
It is also a region that has recently witnessed significant achievements. On 19 July, the United Arab Emirates successfully launched its first interplanetary mission to Mars. The launch has been hailed as the Arab world's most ambitious space project yet. It's also an event that confirms what we already know: we are in a new phase of international cooperation, marked by a significant flux in power dynamics, a palpable rise in non-Western voices and powers, and a growing realisation that the binary of North-South relations is no longer adequate or even realistic. Even the taxonomy we use, with terms like 'Global North' and 'Global South', warrants a rethink.
The geopolitics of North-South relations are changing and this shift will have major implications on how we think and work in global development and security. That's why ODI, now in its 60th year, is forming ODI MED to better understand these changes and forge new partnerships in the Mediterranean region.
The initiative will respond to developments in the areas of peace, violence and security, and economic growth and sustainability. It will examine the implications of the new geopolitics of North-South relations on the multilateral and regional systems, including humanitarian, development, security and peace operations.
The initiative will respond to evolving and emerging developments in the areas of peace, violence and security, and economic growth and sustainability.
The Mediterranean is a region of opportunity…
These geopolitical shifts have been taking place in both positive and negative ways in the Mediterranean region including southern Europe, North Africa and the Middle East.
It's a region of opportunity. Compared to an ageing Europe, the Mediterranean has a predominantly youthful population. Egypt, Jordan (19.9%) Morocco (17.3%), Turkey (16.3%), Israel (15.0%) and Montenegro (13.2%) were among the countries with the largest proportions of young people (aged 15-24) in 2017.
While this is not without its challenges, analysis on the social and economic potential of this young population shows that with macro and microeconomic support, their influence can be transformative for their countries and beyond.
It is also a region that is now extending its ties further south in the African continent. Tunisia and Egypt are actively seeking economic opportunities in the continent, and Morocco is extending its influence across the continent and West Africa in particular. Since the 1995 Euro-Mediterranean Partnership, European nations have seen the countries on the Mediterranean's southern shore as within their neighborhood. But opportunities for European engagement may start in North Africa and extend further afield in the African continent.
…but not for everyone: migrants continue to be exploited
Despite a rich history of cultural and economic exchanges, the Mediterranean continues to be a site for failed policies and various forms of exploitation and trauma for refugees and other migrants, many of which are reminiscent of the colonial history of this region.
In 2016, I interviewed Libyan humanitarian workers who described the horrors they continue to witness in Libya's detention centres. While European states continue to focus on deterrence policies, refugees and other migrants rescued off the coast of Libya en route to Europe are ending up in increasingly difficult conditions in these centres. They are subjected to physical and sexual abuse, severe malnutrition and held for long periods without trial or access to lawyers or family members. Today the situation has not changed. The outbreak of Covid-19 has made it worse, with the politics of the pandemic making life harder for the most vulnerable.
ODI MED: a new approach to North-South engagement
The changing geopolitics of North-South relations calls for a rethink of global development and security operations. We need to focus more on complementarity and comparative advantages, and move away from traditional views of aid assistance, global development and security operations that endorse the North-South binary.
While aware of existing power dynamics (recent and historical), ODI MED will shed this division and instead opt for networking and analysis that views the Mediterranean in practice through the lens of complementarity.
About the initiative
ODI MED will focus on the three main sub-regions of the Mediterranean: southern Europe and the Western Balkans, North Africa and the Middle East. It will examine policy challenges in economic and social development, peacebuilding and security in each of the sub-regions, as well as relationships and movement across and between them.
The initiative will benefit from ODI's 60 years of policy and research expertise. We will draw upon the interdisciplinary regional experience of ODI staff and associates from political economy to history, psychology and anthropology. We will work in different languages including Arabic, Greek, Turkish, Italian, Spanish, French and Hebrew. We will also seek to strengthen our networks in the region and develop new and innovative partnerships with local actors.
Three key aims
 
1. Offer politically savvy and policy-relevant analysis
ODI MED will aim to influence policy and practice within the Mediterranean region through the development of sharp, policy-focused and politically savvy analysis that is entrenched in local realities, history and culture, and that breaks the 'North-South' divide.
2. Foster focused and strategic conversations
The initiative will explore violence, peace and security, and development and sustainability, at the local, transnational and regional levels. We will engage key stakeholders, especially those on the periphery of current dialogues and discussions, such as small and medium businesses.
3. Innovate and reflect
We will innovate and reflect on new and creative partnerships and methodologies for policy engagement in transnational and regional problems.
Current areas of focus include state fragility and transnational violence in the Mediterranean, regional approaches to peacebuilding and security, migration and displacement, policies and politics of entrepreneurship and economic growth as well as the emerging role of local leaders in fostering more equitable regional cooperation.
Finally, deep crises, as Libyan author Hisham Matar says, have long memories. Through ODI MED, I hope we are able to learn from past failures and translate this learning to meaningful policies and action. I see us bringing coherence to the often disconnected, sometimes even clashing, forms of engagement taking place in the region, across and beyond sectoral divisions and borders. I also see us bringing much-needed authenticity to our conversations through amplifying regional voices.
This week's webinar on local peacebuilding, fully conducted in Arabic, is the start of a different way of working and thinking about the Mediterranean region.