​​Today is World Toilet Day – a chance to reflect on our progress in meeting this most basic of human needs, but also to consider the obstacles that remain.   
First some good news: since 1990, well over 2 billion people have gained access to a safe and private toilet. The bad news, however, is that there are still 2.5 billion people – one third of the world's population – who do not have access to such a 'luxury'. Shockingly, a billion people, or nearly 14% of the world's population, have to defecate in the open.

This basic affront to human dignity affects women and girls the most, not just because it contributes to ill-health, but also in terms of safety and missed schooling. Around half the girls in sub-Saharan Africa who drop out of primary school do so because of poor water and sanitation facilities (pdf).

Clearly gender matters, but other inequalities affect access to sanitation too: wealth, where people live (especially rural vs urban), ethnicity, religion and a host of other factors that determine people's ability to shape their futures. And there are massive regional disparities: three quarters of all the people who have to defecate in the open live in only five countries: India (accounting for 60% of the total), Indonesia, Pakistan, Nigeria and Ethiopia.

Inequalities in access also lie behind the global water crisis, as researchers from ODI highlighted earlier this year (pdf).  The toxic combination of unsafe water and poor sanitation account for 3.4 million deaths each year (pdf). In other words, poor sanitation claims more lives than malaria, and puts the current Ebola crisis – distressing and destructive though it is – in harsh perspective.  

What of the road ahead? Our photo story highlights the challenges, but also some of the solutions that people are developing to improve their lives through better sanitation.

A latrine in a health centre in Bambui, north-west Cameroon
In many countries, sanitation remains an obstacle to healthier livelihoods. For example, in Cameroon's rural areas the percentage of people with access to safe sanitation is very low – rates have remained the same since the 1990s. Only 27% of the rural population is reported to have access to improved facilities.
The situation is so critical that diarrhoea is the main cause of death among children under five. Sadly, such human cost comes as no surprise, as the state has failed to implement policies and plans to address the crisis. Lack of political will is one of the greatest obstacles to solving the sanitation crisis – poor access is ultimately due to poor governance rather than poor infrastructure or insufficient finance.
The consequences are stark: this photo, taken at a rural health centre in the north-west region of Cameroon, shows the only latrine available to women to clean themselves after giving birth. This latrine is also shared by children attending a nearby school.
Latrine for children in Bossangoa, Central African Republic
Access to safe sanitation becomes even more difficult during a conflict, as well as in its immediate aftermath. Across the Central African Republic, more than 2.3 million children have been affected by the crisis since intense fighting reached the capital, Bangui, in December 2013, forcing nearly a million people to flee their homes. The sanitation conditions in the country are extremely poor: in some displacement camps in Bangui, there is an average of only one latrine for every 1,200 people.
This picture shows a children's latrine in a camp for internally displaced people in Bossangoa. Its walls have been lowered because children are otherwise afraid to use it. Reportedly, one of the problems with latrines in these displacement camps is their smell: in Bossangoa, aid agencies have tried to encourage people to spread ashes after using the toilet, but this practice is still not very common.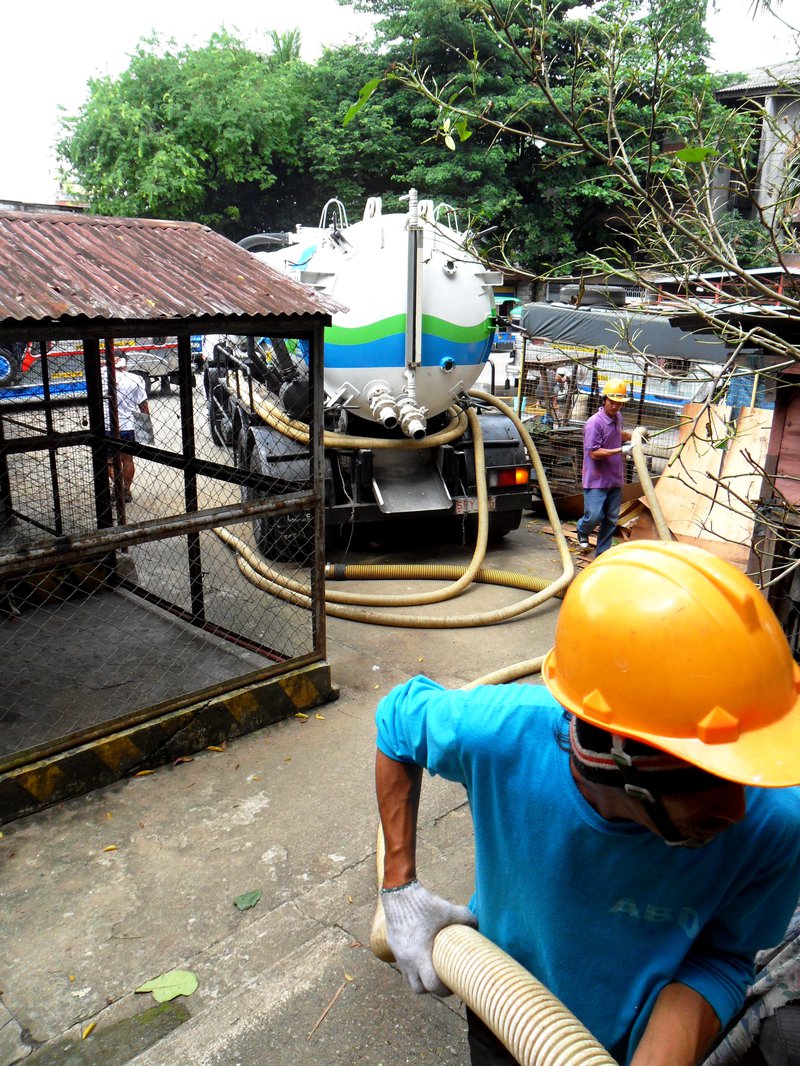 Septic tank desludgers at work in Metro Manila, Philippines
Poor access to sanitation is not only a problem for rural areas. In an increasingly urbanising world, sanitation services are struggling to keep pace with rapid population movement to cities and towns.
For example, in Metro Manila most people have access to toilets, but these toilets usually empty to dug pits or leaking septic tanks. These can pollute the rivers and threaten the quality of water for people who use shallow groundwater wells nearby. Although Metro Manila's main water utilities are improving their ability to empty these septic tanks on a regular basis, this isn't an easy task.
In this photo, the emptying crew did not have a long enough hose to reach the septic tank of a large apartment building nearby. Without better urban plans in place, narrow streets, dense housing and inaccessible septic tanks continue to slow things down.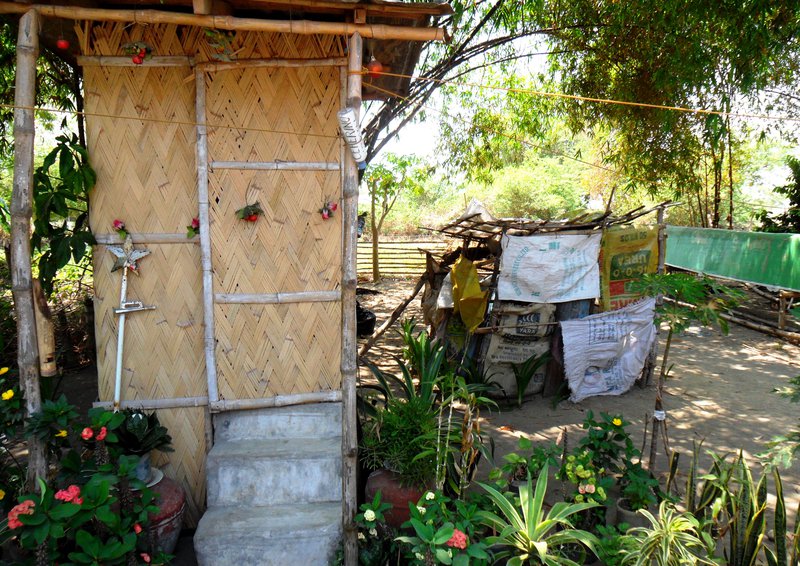 Two toilets in rural Bauang, La Union Province, Philippines
Sanitation isn't just a technical matter. Improving sanitation facilities and making them sustainable means changing behaviour.
Helping people to understand the importance of their toilets can inspire them to invest their time and resources in upgrading these facilities and taking care of them. The benefits of a toilet are not only health-related – the pride, dignity and convenience they bring are usually more important in convincing people to use them.
This photo from a rural part of the Philippines shows how this change can happen, from an undignified and unimproved pit (right) to a proud and well-kept latrine (left).
Suction pump on the outskirts of Maputo, Mozambique
In Maputo, like in many other cities in lower-income countries, the sanitation system is struggling under the strain of growing demand. Initially devised for a population of less than a quarter of a million, Maputo has grown at a supersonic rate since the end of the 15 year civil war that ravaged Mozambique until the 1990s. Today, of the estimated 1.5 million people living in the city, 15-30% still have no access to improved facilities for disposal of their faecal waste, especially in congested and unplanned settlements.
This picture shows staff from a local residents' association in Maputo operating the only suction pump available to families not living along access roads in this neighbourhood. Thanks to this service, the sludge collected is subsequently transferred to mobile tankers towed by a tractor and treated at the central wastewater treatment station.
In places like Maputo, we are seeing change – thanks in part to new technologies and community-led initiatives.
Find out more about the work of ODI's Water Policy Programme