​
A year ago the world was outraged as news of an alleged chemical attack in a Damascus suburb on 21 August 2013 reached the public, and footage of dead and injured Syrians flooded the internet. The UN later confirmed everyone's worst fears and verified that chemical weapons had been used. At least 500 people were reported to have been killed in the attack, with estimates reaching as high as 1,500 victims.
To US President Obama, this had crossed the line. The public and media outlets felt similarly, with media attention of the Syrian crisis reaching a record high.
Was this political, media and public interest sustained over the ensuing months? Unfortunately not.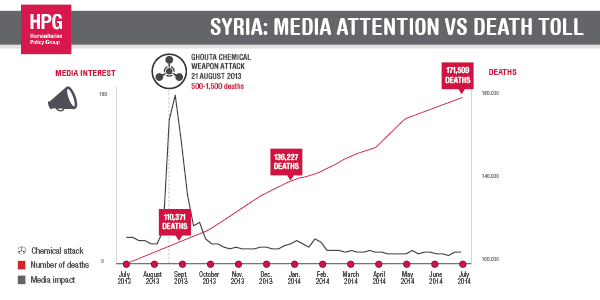 One month later, the Security Council adopted a new resolution (Resolution 2128), which called for inspections of Syrian stockpiles to start on 1 October. This was the first break-through in an otherwise grid-locked Security Council which had been gripped by a distinct cold chill reminiscent of times long gone.
Hopes within the humanitarian community were raised. Surely, if politics could be put aside on such a sensitive topic it ought to be just as possible to agree on a Resolution that would grant humanitarian organisations unrestricted access to civilians trapped in Syria. Or perhaps even a Resolution that would pave the way to an end of hostilities.
However, although the Security Council has passed Resolutions on humanitarian access since then, the reality is that it remains incredibly difficult to reach civilians, and Syrians are continuing to die – 70,000 in the last year – and many of those in need of aid are still left without. This continuing tragedy has not been reflected in media headlines
The last year has also seen a massive increase in refugees – nearly 1 million additional people have fled to neighbouring countries, fearing for their lives. And again, media attention has not kept up with the pace of displacement.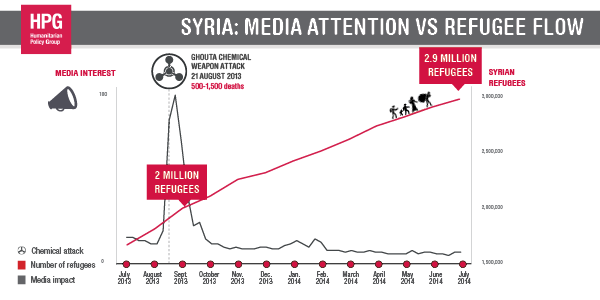 One year on from the chemical attack and nothing has changed for the better. The world was rightly outraged by the chemical attack and the deaths of estimated 500 to 1,500 people. But 70,000 more people have died since then.
Have we lost our compassion for the everyday victims of war?
*Media interest numbers represent search interest relative to the highest point on the chart. This doesn't convey absolute search volume.

(Sources: Syrian Observatory for Human Rights, UNHCR and Google trends)