SPARC: Supporting Pastoralism and Agriculture in Recurrent and Protracted Crises
Image credit:
International Livestock Research Institute (ILRI)
Image license:
CC BY-NC-ND 2.0 DEED
How can development partners support food security in protracted crises?
For the UK Global Food Security Summit (20 November 2023), SPARC researchers Simon Levine and Steve Wiggins reflect on how to bolster food security in countries affected by conflict and protracted crises. This brief offers five key lessons from research in the Sahel, Syria and Yemen: mostly semi-arid areas subject to protracted crises and conflict, sometimes exacerbated by natural disasters, where food crises and food emergencies threaten.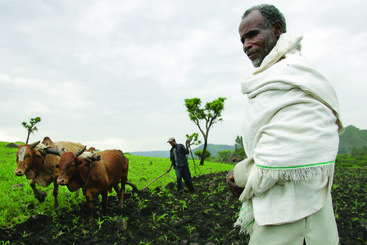 Looking at resilience finance in fragile and conflict-affected situations
Climate change is already posing increasingly intense disruptions to lives and livelihoods in the drylands of Africa and the Middle East - yet these areas often receive the least finance, investment and climate action, despite having some of the world's most climate-vulnerable people. SPARC research analyses the barriers to accessing finance and advancing the climate agenda in conflict-affected countries.
Transboundary climate risks and regional adaptation planning in the drylands
SPARC research has also looked at regional climate risks and adaptation priorities, namely, supporting enhanced understanding of transboundary climate risks in Africa and how to manage them, including a focus on the climate risks facing pastoralists. This work, which has already fed into discussions at the 2023 African Ministerial Conference on the Environment (AMCEN) and the Africa Climate Summit, will also be important to discussions within the UNFCCC, particularly its work agreeing on a framework for the Global Goal on Adaptation.
What does resilience look like for pastoralists, agropastoralists and farmers?
How can aid best support and improve pastoralists', agro-pastoralists' and farmers' resilience in a sustainable way? Although 'building resilience' now attracts huge investment, little is known about the impacts of most externally funded resilience-building efforts on food security and poverty.
SPARC research has shed some light on the barriers to anticipatory action and resilience-building efforts in regions like the Horn of Africa, where crises are complex, protracted and set across wide geographies.
Understanding markets in the drylands
Livestock marketing and trade are critical elements of pastoral livelihood systems and are becoming an increasing focus of investment and aid interventions. But while selling livestock from the drylands can be lucrative, marketing can also be hit by shocks, such as livestock disease, drought and Covid-19-related restrictions. SPARC researches the structure, functioning and performance of livestock supply chains to understand: how can we better understand pastoral markets and support them to become more effective, economical, equitable and resilient?